It's practically impossible to overstate just how much has changed since the Masonic Homes of California first opened its doors in 1898. Since then, what was once a humble orphans and widows home has evolved into a sprawling, multidisciplinary deliverer of care not only for seniors, but also children, families, and adults throughout the state. Fields like advanced memory care, assisted living, and remote mental health services had yet to be invented in the 19th century are today key growth areas for the organization. Even the name of old town the Masonic Homes was based in, Decoto, has changed. (It was incorporated into Union City in the 1950s.)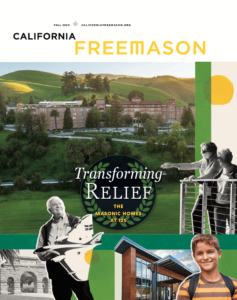 As the Masonic Homes celebrates its 125th anniversary this year, there's a lot of history to review—and also a bright future to look forward to.
That's just what we're doing in the latest issue of California Freemason Magazine. First, Laura Benys gives us a whirlwind history lesson on the Masonic Homes—including how change has been the only constant there. There's also a fascinating Q-and-A with Terry Quigley, the newly appointed president and CEO of the organization in which she lays out her vision for the future of the venerable organization. There's a helpful primer on the wide range of services the Masonic Homes offer for clients of all ages, in all parts of the state; an overview on the transformative Masonic Outreach Services department and how it brings Masonic relief to members across the state and beyond; a double-profile of the senior retirement communities' two on-campus lodges, Siminoff No. 850 and Destiny No. 856; and an update about an exciting urban gardening program at the Union City campus that recalls the Masonic Homes' agricultural heritage.
Grand Masters and Masonic Homes leaders have long described the organization as the "jewel in the crown of California Masonry." In this issue, we marvel at just how brightly that jewel continues to shine.
And for those interested in learning more about the Masonic Homes' services, be sure to visit masonichome.org or call the Masonic Assistance line at (888) 466-3642