UNION CITY, Calif., Sept 2023
 The Masonic Homes of California would like congratulate the first class of students to have graduated from the Masonic Homes Nursing Assistant Training Program, made possible through a partnership between the Masonic Homes of California and Unitek Learning. Nine students underwent a six-week educational program that included both classroom and clinical rotation training. On September 15th, these students graduated and began the process of becoming Certified Nursing Assistants, or CNAs. 
Since the pandemic, staffing has been an issue throughout the healthcare industry. There are just not enough healthcare professionals to fill vacant positions, and the Masonic Homes of California was not immune to these staffing issues. To address these concerns, the Masonic Homes leadership team created different strategies and programs, but the most exciting is the NATP as it directly helps to alleviate the staffing crisis.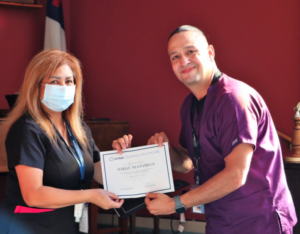 The Masonic Homes, along with other passionate partners, sponsors individual eager to work as CNAs, but lack the resources and time to enroll in a training program. This sponsorship allows students to achieve their dreams of working in healthcare and also helps ensure that the Masonic Homes is ready to meet the needs of current and future residents.
The need for senior living support services is growing. A career in healthcare, especially in senior living, is a strong option for people who want to make a positive impact on the world, have a heart for service, and are hoping to make decent wages. The Masonic Homes is proud to be an organization that is helping students achieve their goals, while also providing much needed healthcare staff to the industry. 
The nine graduates are already working getting their certification, and many of them will be back at the Masonic Homes as new employees. Congratulations to the new graduates! To find out how you or someone you know can avail yourself of the NATP program, please call (888) 382-8183. 
About Masonic Homes of California and Masons of California
The Masonic Homes of California serves seniors on two campuses, in Union City and Covina, that collectively house more than 400 residents. It also provides more than 40,000 California Masons and their families with social services and emergency financial relief. In addition, the Masonic Homes also serves an expanding number of children and families through its Masonic Center for Youth and Families, with locations in San Francisco and Covina. The Masonic Homes of California was named by the Bay Area News Group as a Top Workplace in 2019 and 2020, and a national Top Workplace in Health Care in 2021. It has been recognized as a Five Star facility by CMS.  More information about the Masonic Homes can be found at www.masonichome.org.

Founded in 1898, the Masonic Homes of California is a charitable organization devoted to helping our communities live well and achieve meaningful and rewarding lives. We provide senior residential communities, statewide outreach services, financial support, mental health services, and care management to members of the Masons of California, a nonprofit fraternal organization with more than 40,000 diverse members. We are invested in California communities, supporting schools, community services, local charities, and children in need.