On Saturday, August 25, 2018, the Masonic Homes welcomed prominent community members throughout the Tri-City region to the Union City campus to celebrate the second annual Luminary Caregiver Awards.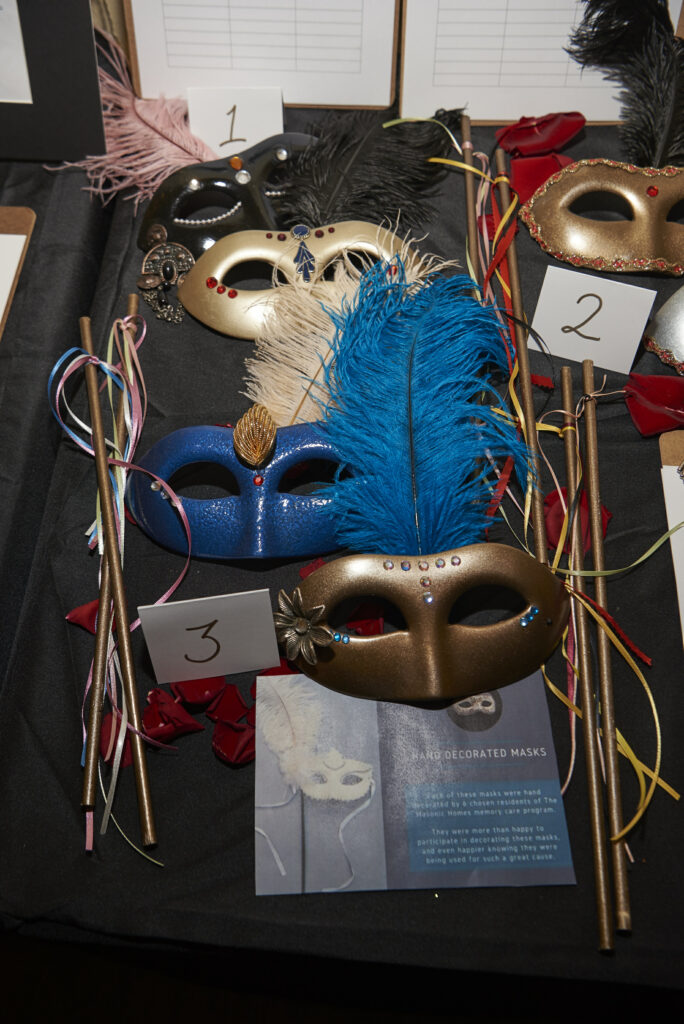 Instituted as part of its campaign to bring awareness to people who struggle with Alzheimer's disease and other forms of dementia, as well as their families, the Masonic Homes established these awards to help shine a light on the important work of memory care caregivers. The individuals and organizations that devote their time, compassion, and energy to supporting people with memory-related challenges are often unrecognized for their contribution to society.
The theme of this year's event was "A Night at the Opera," which was inspired by beautiful opera masks that were hand-decorated by Masonic Homes residents participating in memory care programs. The masks were auctioned off as part of a silent auction. Auction items were also donated by a number of generous local businesses and citizens. This elegant evening also included a degustation menu with wine, live music, and other entertainment.
Congratulations to this year's Luminary Caregiver Awards recipients!
Inspirational Luminary Award:Mila Josue
The Inspirational Luminary Award Recognizes a caregiver whose extraordinarily compassionate service is a source of inspiration to others. This year's recipient is Mila Josue, a registered nurse who volunteers her time as a health care coach, educator, and advocate. She is chairperson of the Union City Senior Commission, helps lead the Dementia Friendly Tri-City Taskforce, supports the Philippine Nurses Association, and is a member many additional organizations that support the fight against Alzheimer's disease. At the same time, she personally provides memory care to a beloved family member who is struggling with cognitive decline. Joshue's sincere and whole-hearted approach to supporting those within her family and community who struggle with memory loss is an inspiration to all.
John A. Charland Jr. Innovation Luminary Caregiver Award:The Connected Horse Project
The John A. Charland Jr. Innovation Luminary Caregiver Award was instituted to recognize caregivers who use technology in an innovative way to help ensure safety and improve quality of life for a loved one coping with dementia. This year's recipient is The Connected Horse Project, which partners with the University of California, Davis, School of Medicine; Alzheimer's Disease Center; and the School of Veterinary Medicine, Center for Equine Health to study how human-animal connections can benefit people living with dementia and their caregivers. This unique program presents an opportunity for people with dementia and their caregivers to build connections, foster understanding, and strengthen relationships.
Millennial Luminary Award 
The Millennial Luminary Award was designed to recognize the impact that young people may have on the lives of people coping with dementia. This year's recipient is DreamCatchers, an organization that partners with hospice care professionals to fulfill the dreams of people facing terminal illness. The program was established by a California high school student, Caitlin Crommett, when she was 15 years old. Today, local DreamCatchers clubs are located at high schools and colleges throughout the United States. This organization truly exemplifies the impact that young people can have upon the lives of elders in their community who struggle with memory loss and other terminal diagnoses.
The Masonic Homes thanks all community members for their attendance at and support of this important celebration, particularly:
Carol Dutra-Vernaci, mayor of Union City
Tony Acosta, city manager, Union City
Harvey Dosanjh, senior commission, City of Union City
Chuck Kennedy, parks and recreation commissioner, City of Union City
Glenn Nate, parks and recreation commissioner, City of Union City
Lily Mei, mayor of Fremont
Helen Kennedy, executive director, New Haven School Foundation
Bernard Stewart, first vice president, Washington Hospital Healthcare System
Angus Cochran, executive director, Washington Hospital
Phong La – candidate for Alameda County Assessor
Thank you to the following local businesses and citizens for their generous sponsorship and donations:
Washington Hospital Healthcare System
Professional Home Care Associates
Orthopaedic & Neurological Rehabilitation
New Haven Schools Foundation
Peerless Coffee
Homewood Suite
Haller's Pharmacy
Home Instead
LivWell Health, Inc.
LeadingAge California
Sleep Number
Charland Family
Learn more about the Masonic Homes of California.