On July 28, the Masonic Home at Covina welcomed about 1,000 fraternal family members to campus to celebrate the summer season with its annual SummerFest festivities.
Guests enjoyed a delicious catered lunch of brisket sandwiches and salads, along with classic festival treats – cotton candy, popcorn, lemonade, and snow cones.
The on-campus swimming pool once again filled with fraternal family members of all ages, and new this year was a delightful petting zoo. Guests also enjoyed carnival games, craft booths, and tours of the beautiful Covina campus.
Come to HarvestFest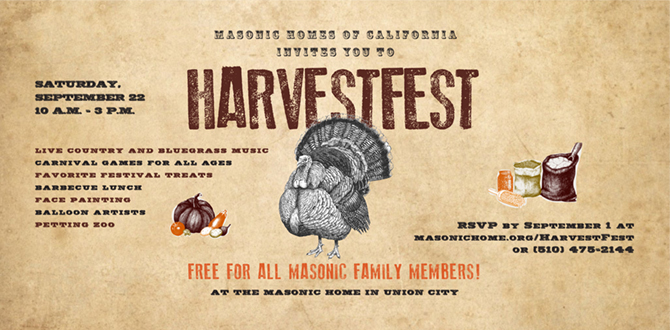 Fraternal family members in Northern California are invited to celebrate the autumn season with HarvestFest, which will take place at the Union City Masonic Home on Saturday, September 22 from 10 a.m. to 3:00 p.m.
This free, family-friendly event will include fabulous food, fun, and entertainment for fraternal family members of all ages!
Live country and bluegrass music
Delicious barbecue lunch and favorite festival treats
Carnival games for all ages
Face painting, balloon artists, and a petting zoo
RSVP NOW or, register by phone by calling (510) 475-2144.
Questions? Contact Community Relations & Events Manager Kim Hegg